If you are searching for an exceptional window cleaner for commercial buildings, Patriot Services humbly serves the cities of Dallas and Fort Worth. Windows should be shiny and clean to give a great impression for your business. Here are some factors for deciding commercial cleaning: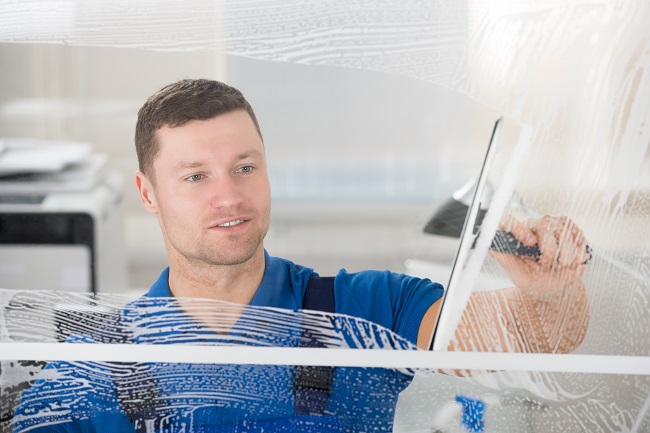 IT IS CONVENIENT.
Having a professional window cleaner makes more sense than handing someone else the job. Hiring a local window cleaner is a bonus, and they will be flexible toward scheduling arrangements that an office will make.  We will consult with our owner to please each company that needs their windows cleaned, and have the experience to work within their budget.
THE CURB APPEAL OF YOUR BUSINESS WILL INCREASE.
A spotless window will enhance the curb appeal of your business, and also bring in a greater amount of natural light. Artificial lighting in an office does not compare to the wonder of sunlight streaming in the windows. Commercial window cleaners know how to increase the heavenly glow inside your commercial building, and the benefits will pay off considerably.
SERVICES ARE COST-EFFECTIVE.
A commercial window cleaning professional actually helps in the reduction of costs. Technicians use time, tools, and equipment effectively in order to acquire decent results. It is important to get the job done correctly the first time around to avoid the cost of extra time. "Soft costs" are the items that ultimately save a commercial office from paying out more than they should.
YOU WILL SEE IMMACULATE RESULTS.
A window cleaner with less experience will turn to using Windex and paper towels on the surface, which is an amateur method. To get the best results, windows need to be spotless on the exterior and interior, so ugly marks or damaged windows do not happen. Professionals know how to tackle the ropes of cleaning a tall building, and will show excellent results because of their pristine equipment and knowledge.
Contact us today for a free online proposal for commercial window cleaning, or call 817-504-7112. Your business is important to us, and we will make those windows squeaky clean.