Of all the house services you can hire a professional company to take care of, many don't consider doing so for window cleaning. It is one of those tasks that people believe you can't really do wrong, and so they may opt to do it themselves. However, after a few rounds of window cleaning, homeowners soon learn that there are a lot of benefits to having a window professional service come out instead.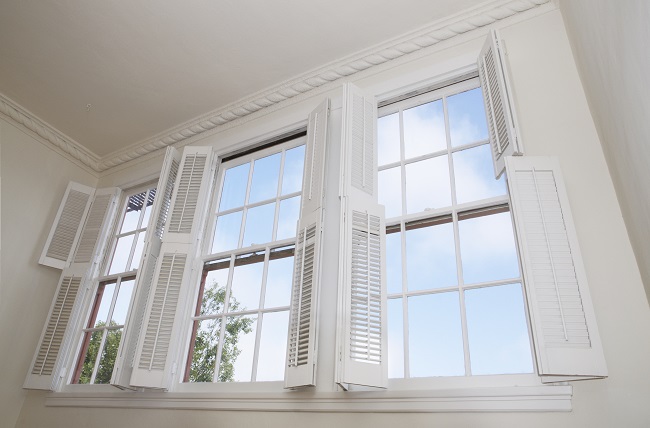 It Saves Time – The weekends are supposed to be your days to kick back and relax. Unfortunately, while window cleaning seems like a few hours of time investment, depending on the size of your home, it can very well turn into an all-day affair.
It Is Safer – Single story houses are very safe when it comes to window cleaning. However, things are more complicated for two-story or more homes. Windows high up require ladders and while professional window cleaning services use ladders every day, you probably aren't so accustomed to it.
You Get a Better Clean – Window cleaners have specially made tools and specially made cleaners for your windows compared to what the normal consumer buys for the job. This means no spots or streaks left behind on the windows. It is a professional's job to leave pristine windows behind.
You're Protected – If you damage a window while cleaning it, your homeowner's insurance will help cover the damage. However, if you get hurt doing it, then things can be a little trickier. A professional window cleaner not only has insurance to help cover damages, but they will have the proper licensing for an even higher level of protection and quality assurance.
If your windows are in need of a solid clean, and you have finally decided to leave it to the professionals, contact us today. Not only can the staff at Patriot Services take care of your windows, but we can power wash your home and clean your gutters as well for a fully beautiful exterior.
Many people don't realize the importance of gutters on the home and take them for granted until damage occurs. Gutters protect doors, windows, ceilings, foundations and walls from water damage. Additionally, they protect against soil erosion, keep patios and decks decaying and also keep the foundation solid. To ensure the gutters are working at their peak performance, regular maintenance is necessary. Debris such as a leaves, twigs, pine needles, dirt and dust can build up and cause clogs preventing water from freely flowing.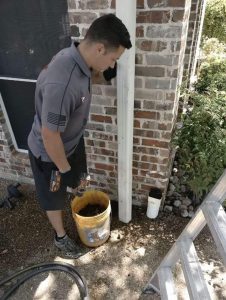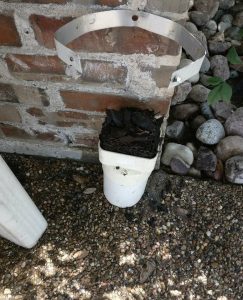 Water Damage
The biggest reason to keep gutters clear is to prevent water damage to the home. The intended purpose of gutters is to move water away from the home and foundation which is the number one cause of structural damage to properties. A clogged gutter will not allow water to channel away from the foundation and over time will cause damage. An unstable home is unsafe so investing in clean gutters is a must.
Landscape Destruction
When a gutter overflows after a particularly strong storm, the water will beat down any soil or plants that line the foundation of the home and could potentially destroy the plants. Additionally gutters that are not maintained will lead to soil erosion as water will beat down the soil and wash it away. When the gutters are clean, the water will drain away from the landscape and away from manicured plants and landscape beds.
Roof Lifespan and Leaks
During cold winter months, snow and ice will build up on the roof and will need to drain away once thawing occurs. Clogged gutters can potentially trap ice and cause a buildup on the roof. Excessive buildup will add weight to the roof and can cause extensive damage. Additionally, clogged gutters will not allow the melted snow and ice to drain away. Keeping the gutters clear will improve the lifespan of the roof and prevent leaks.
If it's time to clean your gutters, contact us to schedule an appointment.
Many do-it-yourself, handymen, handy-women, and homeowners like the idea of using a pressure washer to clean items or locations outside of their homes. Maybe they have a mildew situation on their exterior walls, or perhaps they would like to clean a brick or cement patio. Whatever the job, in most cases a hiring a pressure washer might just be your best bet.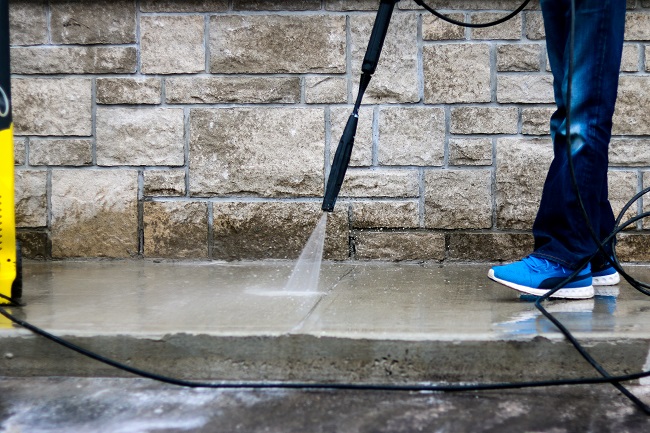 In most cases a pressure washer is a beneficial tool to have on hand. The only problem with taking on these activities is that many lay people are not trained in choosing the right tip for the washer; knowing which psi is correct for different jobs, and which materials are pressure washer safe. Most people do not realize that a pressure washer if run incorrectly, can damage even concrete.
It is the tip of the nozzle on the hose that determines the angle of the flow. A tighter angle means more water is concentrated in a smaller area. However, this angle may cause abrasion and wear on the material being cleaned. Homeowners, when attempting to remove a stubborn spot or stain, may keep the tip at a concentrated angle which can result in damage to the surface, decreased work speed, and increased streaking.
Another tricky issue is that manufacturers have not chosen a standard marking for the tips used on a pressure washer. It is essential to check the stamping directly on the tip to ensure you are using the correct washing angle.
If your patio or driveway is in a shady area, over time mold and algae will build up over the winter. Surfaces that are older become more porous because of natural wear and tear. This porousness allows for more grime accumulation in a shorter period of time.
It is an excellent idea to call on a professional who can complete the job in a safe and high-quality manner. Contact Patriot Services in the Dallas, Ft. Worth area, for assistance in all your pressure washing needs.