Start Off Your Fall Cleaning with a Soft Wash
Fall is right around the corner. Even though it's still hot outside, it's time to start cleaning your home's exterior and clearing away all of the leaves, pollen, and debris from the spring and summer. One of the best ways to deep clean your home's exterior in preparation for fall and winter is with pressure washing. Here are three reasons why you should hire a professional instead of adding it to your to-do list: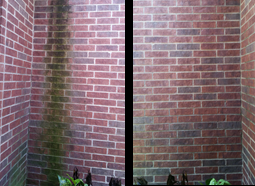 1. Different surfaces need different pressures and different cleaning agents.
Hard surfaces like concrete and brick can handle a lot of pressure. Depending on how much your driveway has absorbed the rubber and road chemicals from your cars' tires, they might need that high level of pressure to get clean. But grout lines and siding are more fragile. Using the same pressure can make them crack or crumble. Your roof is even more vulnerable and needs soft washing techniques to keep the shingles sealed and in place. Professionals can methodically clean your home's exterior from top to bottom without either damaging softer surfaces or leaving hard surfaces partially dirty.
2. Precision matters.
The different surfaces on your home's exterior need different pressure levels to really get cleaned. But those different materials are right next to each other: your garage door's weatherstripping is right next to the driveway, the roof line is right up against the gutters, and your garden beds touch the edge of the sidewalk. Trained professionals can clean all of these different surfaces without accidentally cutting into a fragile surface. They can also ensure every surface gets cleaned right up to the edge instead of leaving the edges with a gradual gray fade-out.
3. Heights can be hard to reach.
There's a lot of pushback on even the best pressure washing tools you can find in big box stores. Climbing a ladder and turning on the pressure washer wand is incredibly dangerous. But the force weakens over distance, so pressure washing from the ground can leave the siding splotchy or grayed out.
Contact Patriot Services today to schedule an appointment for a soft wash. We can pressure wash your home's exterior to make it ready for the fall and holiday season.